Officially the best in Western Europe!
"Here is a simple but powerful rule: always give people more than what they expect to get." – N. Boswell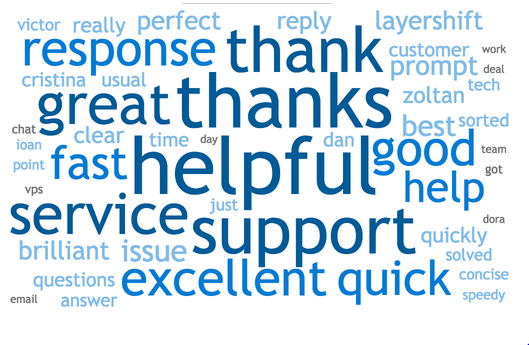 There's one thing central to everything we do at Layershift: keeping our customers happy. Nothing is more important than delivering the very best customer service in our power.
That mantra has seen Layershift grow from strength to strength over the years, and we're extremely proud and grateful for all the customer referrals we receive from our happy customers.
One of the most fundamental pillars to that success is customer feedback. In fact it's the very fuel that keeps our business going and growing so strongly.
As a managed hosting provider we work exceptionally closely with our customers, so we like to think that we have a good handle on their needs, wants, desires, and challenges. But how do we know if we're really doing a good job with that? Are we really solving problems in the most effective way? Was our assistance at the right level of detail and clarity to help the customer meet their goals?
To find out we engaged an independent real-time feedback service called Nicereply to help us answer these questions, and for the last 3 years every time we assist a customer we provide a simple link to for their feedback. No complex surveys, no harassing phone calls, just an non-intrusive link where customers can rate our reply out of 10 and leave an optional comment.
The important part is where that feedback goes, and because Layershift is founded on the very principles of exquisite customer service that feedback gets straight in front of the directors in real-time. This way we keep our finger firmly on the pulse and know immediately if even one customer feels that we're letting them down!
Winner: Nicereply Customer Happiness Awards 2014
It was a nice surprise to hear that Nicereply introduced a new annual Nicereply Customer Happiness Awards series, and especially to discover that when the stats were counted right across their entire feedback monitoring platform
As I have the privilege to write this blog post, let me take a moment to say that everyone here at Layershift really appreciates this special recognition of our efforts.
As anyone who works in customer service roles knows, it takes a Herculean effort from every last member of our team to achieve such an outstanding and consistently high level of customer satisfaction, and receiving acknowledgement for a job well done – even in the form of a simple thank you from our loyal customers – is a HUGE morale boost; knowing that those thank yous and notes of feedback have cumulated in the entire team receiving international recognition is amazing!
Help us deliver web hosting salvation to more people currently impoverished by poor service
It's only natural that we want to rescue other less fortunate webmasters and developers from the clutches of… umm… let's say "less energised" hosting providers. You can help us out on this mission by spreading the wonderful news now that Layershift's support team have official recognition as the best in Western Europe!
If as you're reading this you're thinking maybe your hosting provider keeps you waiting too long in your moment of need, or perhaps the assistance you receive from them is lacklustre and scripted, maybe you should get ready to use a provider who truly cares about your needs?
Take a look at our range of hosting services and discuss your requirements with our friendly sales team; in most cases we can even include a free migration service to get you moved across as smoothly as possible.