Conquering the world together: Layershift Jelastic PaaS expands to Asia
Asia, here we come !
Exciting things happen when Layershift and Jelastic combine forces. We listened to your needs and didn't rest until we made it happen.  We are very pleased to announce that starting today we are bringing the world closer to you, by launching Jelastic PaaS in Singapore, Asia.
Layershift's partnership with Jelastic started four years ago by offering the unique Jelastic multi language PaaS, on UK SSD servers. In 2015 we expanded our services and started offering it in US too. One year later, here we are, proudly announcing the availability of Jelastic platform in another new location (read official release note).
This makes Layershift the first and only hosting provider to offer the innovative Jelastic technology in Singapore, and as is the Layershift way we're doing it on top of powerful SSD servers to give you the very best performance.
"We are raising the bar of Jelastic Cloud in Asia; we are the only ones offering pure SSD in the continent, and I'm delighted to be able to bring our strong service and performance levels to South East Asia."

                                                                                                                                                                                      – Damien Ransome, Layershift's Service Director 
And we are not stopping here, we promise. We are continuously working on exceeding your expectations so when you need reliability, power, high availability, topped up with outstanding support, you'll know you can count on us to deliver right at your fingertips.   
Increased performance around the world
Jelastic is a scalable platform as a service, built on containers, designed to host Java, PHP, Python, Ruby and Node.js applications on Public or Private Cloud.
By choosing Layershift as your hosting provider you can easily deploy your application throughout environments across three continents, in three different regions, all managed on one platform.
When creating an environment, you can choose your prefered location with one click and your app or project will be hosted on the server of your choice almost instantly. You no longer have to buy multiple servers from multiple vendors across the world, we just made things easier for you.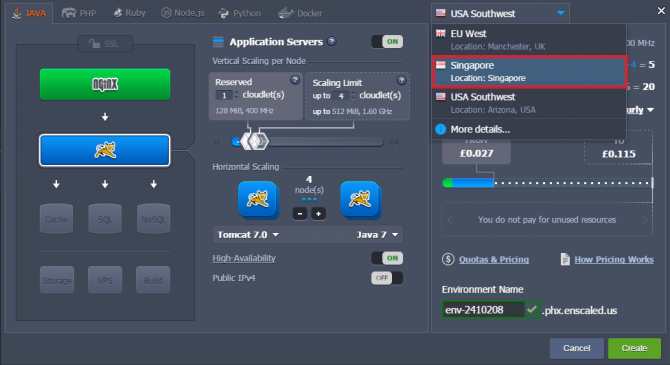 Enabling a third server location in our Jelastic platform, comes with great benefits:
Simpler management of your projects from one dashboard. You only need one account to host multiple projects in the same time, in different location, across 3 continents.
Reaching your targeting market faster, without any CDN needed, will minimize your cost significantly without affecting performance.
Same level of security and power for your project provided by highly secured datacenters infrastructure and SSD servers, in all three locations.
Award winning customer support and server management, without any extra charges, no matter the location of the server you choose.

All of our platform's great features are available in all locations, no difference whatsoever.
Looking forward to welcoming you !
Why wait any longer? Jelastic PaaS 14 days free trial is available so you can convince yourself about the power of the platform designed by Jelastic team, as well as of the outstanding 24×7 customer support and server management provided  by Layershift.
You've got nothing to lose, we'll help you get up and running in the Cloud in no time and we'll make sure you have everything you need along the way. Our award-winning support is included free.
We're sure you won't be disappointed, but don't take our word for it, check our rating and see what our customers say about our services.
Then go ahead and give it a try for yourself!