Layershift Jelastic PaaS expands its borders!
Layershift were the first provider to introduce this revolutionary platform to the UK. Now we're first to go multi-region with the addition of our USA Southwest region in Phoenix, Arizona.
Answering your demand
Customers throughout Europe are enjoying the exceptionally high standard of service and support we deliver together with our Jelastic PaaS. More and more businesses are saving time and money by only paying for usage, rather than instance size, combined with the renewed focus our highly versatile hosting platform grants by removing sysadmin setup time and headaches.
But our friends across the pond in America were sad. They looked across with envy and pleaded:
"Why do we have to put up with poor service and unreliability from the huge IaaS corps?"
Of course this illustrative of the problem facing most of our PaaS competitors: almost all are built on top of third party infrastructure such as AWS, Digital Ocean, or Azure, so they really have no control over the important infrastructure details; nor can they provide robust SLAs as standard like Layershift.
The US is also an important market for many of our European customers. Together these factors created a very high demand to combine Layershift's extra special service quality, scalable hosting platform, and a well connected US server location.
We took this opportunity to expand our overall footprint – already in Manchester, Amsterdam, Chicago, and Singapore – launching our Jelastic PaaS in Phoenix is a really proud moment for us.
Now available in Phoenix, Arizona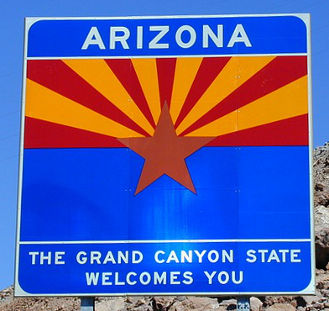 Security and performance are critical issues for us at Layershift, because we know that it's the small but important details that matter most.
On security, I'm pleased to confirm that our new facility is SSAE 16 SOC 2 audited to assure the effectiveness of security and privacy controls in place. (SSAE 16 is the successor to SAS 70)
Just as with our UK servers, we carefully selected the best performing SSD storage to provide you with consistently high I/O performance throughout our cluster, combined it with the latest generation of server-grade RAM and CPUs, and connected it all up to a diverse and performant range of network partners.
This means Layershift's Jelastic PaaS customers can exclusively choose between UK (EU West) and Phoenix (US Southwest) regions when launching each new environment right from the comfort of their Jelastic dashboard. No extra logins or billing complexities.
This is perfect for customers who require a global application footprint or who serve end users in multiple markets; you now have the benefit of working with a single integrated 24×7 support team for all your needs.
Layershift's experienced team are on hand to help you to address cross-datacentre scaling, replication, and even combine with our security-centric Traffic Guard WAF and CDN service for geo-distributed load balancing, disaster recovery, and automated failover.
The world at your fingertips
When creating a new environment you now have the choice to select the most appropriate location for your needs: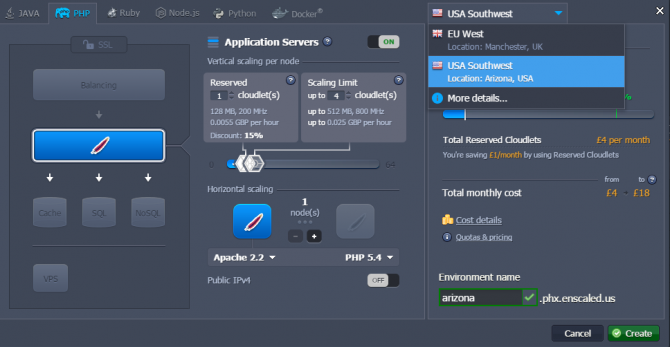 For your convenience, the dashboard remembers your last used environment location. Also, every environment has a little flag icon to help you to clearly identify its server location in your environment list:

Endless opportunities
The possibility to choose your server location, or spread at least some of your application across multiple datacentres, can help you in many ways:
Increased performance, thanks to lower latency by placing your application servers closer to your users
Reduced cost, since you no longer need to add a CDN to effectively service users in these regions
More flexibility, as every user automatically benefits from this new feature in their dashboard without any extra logins or accounts
Improved resiliency, because now you can design your applications for maximum uptime and fault-tolerance utilising multiple secure EU Data Privacy compliant facilities located around the world
All platform features and capabilities are available in both locations.
As always, we're here to welcome your feedback, hear your thoughts and answer all of your questions. Follow us on Google + and on Twitter to stay updated!
Are you a new customer? Start a 14 day free trial now and get a taste of the unique Layershift Jelastic PaaS experience. Full 24×7 support and server management is on us, so give it a try – we'll even help to migrate your application to our platform from any other provider.